IMPORTANT NOTICE
Dear Friends,
First and foremost, we hope and pray that all our clients, their families, and their loved ones are healthy and safe. For anyone who has become ill, or knows someone who has, we wish them a fast and complete recovery.
Earlier this month, Governor Murphy extended New Jersey's public health emergency for another 30 days until early June.
Although we expect to hear soon about a reopening date, at this point, we can only hope that COVID-19 has loosened its stranglehold on New Jersey, and that Governor Murphy and his medical and scientific team will notify us when our salons may open safely.
Rest assured, as soon as we get the go-ahead, we will reopen with our talented staff who are looking forward to returning and seeing their clients again.
The continued safety of our clients and staff is our first and most important priority. To  read more, click here
One last thing…. during the last few weeks of our closure, many of our clients have asked how they can help support us. If you are so inclined, we would greatly appreciate you taking a moment to fill out a review on Google or Facebook…
To leave a review on FB please go here:
https://www.facebook.com/ Salon.Drama/reviews/
To leave a review on Google, please go here:
https://g.page/r/CdY9GFrcT- TpEAg/review
Thank you in advance! We miss everyone one of you!
Be safe, healthy, and we will be waiting for you on opening day.
Warmest Regards,
Marla & Steven Camins and the staff of Drama Salon
‌
DRAMA
ADDRESS

Lexington Downs Center
3 Lexington Avenue
Corner of Cranbury Road
East Brunswick, NJ 08816
Get Directions

732 - 254 - 0135

salon.drama@gmail.com
WHAT OUR CUSTOMERS SAY ...
All my trips to Drama Salon are enjoyable, the staff is friendly and accommodating. My hair stylist is THE BEST!!! She makes me look amazing every time.
Becca
When it comes to my hair, I am very particular...which is why I LOVE Drama. Every member of the staff is amazingly good, takes the time to listen, and I am always pleased with the final results. I'm a client for life!
Sue
My hair came out exactly how I wanted and everyone at Drama was super friendly.
Lori
I have been a customer for almost ten years and I love the place and the people. My hair stylist is FANTABULOUS!!!! She'd better stay at Drama FOREVER!!!! I am always getting compliments on my hair.
Anonymous
I am always greeted and treated so nicely here. No matter who your hairdresser is, all staff members are friendly and courteous. I also think they are the most creative and talented stylists in the area!
Carole
As a customer of over 21 years, I still recommend Drama for its wonderful service, talented hair stylists and professionalism.
Sandy J
Love your professionalism and special treatment to the individual needs. Cheers!!
Donna V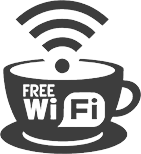 FREE COFFEE AND WIFI. ALWAYS.