IMPORTANT NOTICE
DRAMA SALON IS TEMPORARILY CLOSED
In response to the COVID-19 emergency and for the continued safety of our staff, clients and friends, we are temporarily closing Drama Salon, effective immediately.   We plan to reopen on Tuesday, March 31.
If we have not already contacted you and you have an appointment within the next 2 weeks, please call our desk Tuesday through Friday between 10 AM and 1 PM to reschedule.
Our phone is (732) 254-0135.
Thank you for your continued loyalty and support.  Be well and stay healthy.
Our award-winning hair salon in East Brunswick, NJ is celebrating 25 years of hair styling expertise and service excellence. Our clients trust Drama Salon's talented hair stylists to work with them to achieve their ultimate hair goals. Satisfaction is guaranteed at Drama Salon—that's why our clients have voted us the best salon in Central NJ. So, call us today at (732) 254-0135 for a free consultation, or to schedule an appointment. And ask about our waxing, makeup and other salon services!
DRAMA
ADDRESS

Lexington Downs Center
3 Lexington Avenue
Corner of Cranbury Road
East Brunswick, NJ 08816
Get Directions

732 - 254 - 0135

salon.drama@gmail.com
WHAT OUR CUSTOMERS SAY ...
All my trips to Drama Salon are enjoyable, the staff is friendly and accommodating. My hair stylist is THE BEST!!! She makes me look amazing every time.
Becca
When it comes to my hair, I am very particular...which is why I LOVE Drama. Every member of the staff is amazingly good, takes the time to listen, and I am always pleased with the final results. I'm a client for life!
Sue
My hair came out exactly how I wanted and everyone at Drama was super friendly.
Lori
I have been a customer for almost ten years and I love the place and the people. My hair stylist is FANTABULOUS!!!! She'd better stay at Drama FOREVER!!!! I am always getting compliments on my hair.
Anonymous
I am always greeted and treated so nicely here. No matter who your hairdresser is, all staff members are friendly and courteous. I also think they are the most creative and talented stylists in the area!
Carole
As a customer of over 21 years, I still recommend Drama for its wonderful service, talented hair stylists and professionalism.
Sandy J
Love your professionalism and special treatment to the individual needs. Cheers!!
Donna V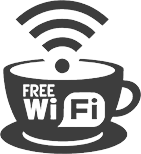 FREE COFFEE AND WIFI. ALWAYS.